New Zealand Herald Article
"It's not all black and white"
Photographer Susanna Burton is a woman of vision, Jenny Forsyth looks at her chameleon existence.
On assignment in Africa for World Vision, photographer Susanna Burton spent a month switching her focus between the plight of the orphan child and the communal delight of a new school.
Just a day after returning to New Zealand she snapped 10 luxury houses for a high class real estate brochure.
Such is the extreme lifestyle of a professional photographer, who pays the mortgage with fashion, but earns the biggest satisfaction from charitable-travel assignments.
"I'm not judgemental about people's wealth. The contrasts are big, but after taking photographs in developing countries for years, I accept that our reality is different," says Burton, who has been a contributor to the World Vision calendar for the past decade.
"My dream was to do weddings and portraits in the summer and something for an aid organisation in the winter. It's taken a long time to reach it."
A glance round the walls of her modest, photograph-filled St Johns home highlights the chameleon quality of Burton's photographic life. Large framed pictures of smiling brides posed on elaborate stairways sit cheek by jowl with shots of the harsh African landscape and a crowded Indian railway station.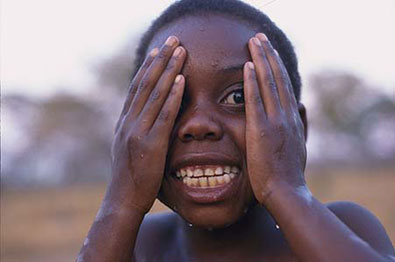 Joyful: for this Zambian child, life is a happy one. Not all are so fortunate.
Since starting work as a Truth photographer more than 20 years ago, Burton has travelled the globe with her career. As a committed Christian, she spent nine years on the ships Logos and Doulos, taking photos while distributing educational books to more than 70 countries.
It was during that time that she began supplying free photos to World Vision. Now that she has settled back in Auckland, the aid organisation has begun sending her on annual assignments to capture images for its 40-Hour Famine publicity and calendar.
Last year Burton roamed the streets of Cambodia, photographing child prostitutes. This year she travelled to Africa for a month.
Professional highlights included photographing Claudine; the teenage head of a five-child Rwandan household, and the Zambian school and two wells paid for specifically by sponsorship money from St Kentigern College, Auckland.
But the finest hour, on a personal level, was meeting Zambian Francis Mpezeni and his family.
"Eleven years ago I heard about a man in Zambia on death row. He was imprisoned for an armed bank robbery and had spent two years in solitary confinement, taken drugs and been almost suicidal," says Burton. "He became a Christian and we sent him books for the library We kept in touch after that for eight years.
"After he'd been in prison 10 years he asked me to write to the Zambian President to try to get him a pardon, because he·needed to be with his wife and teenagers. I eventually did write the letter, and while I was in Japan I heard that he and another man were pardoned after they'd checked on them in prison.
"Francis is now a full-time worker going round helping others in prison. I went to see him and the $2500 house my family had sponsored. That was pretty special for me."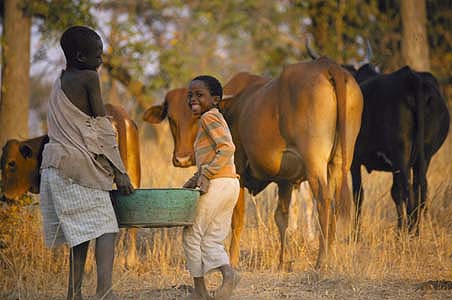 Well Done: Improved water supplies and healthy animals mean a lot to Zambians.
- NZ Herald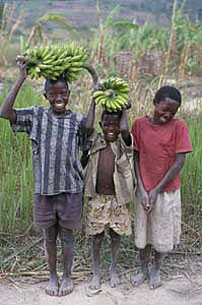 Optimistic: These Ugandan children don't let poverty hamper their enthusiasm for life
.